San Francisco Hotel Rooms
The Chancellor Hotel is a 3 star hotel located on Union Square, in the heart of San Francisco, on the Powell Street Cable Car Line.

Once the tallest hotel building in San Francisco, the Chancellor Hotel has 137 rooms including 2 suites.
The rooms are decorated in a contemporary style and are small by today's standard, but very comfortable for two people.
Accommodations
Rooms on the front side offer views of Union Square and the cable cars, while rooms on the backside are quieter.
43" LCD flat panel TVs
Free Local Calls/800 Calls
Guests can seamlessly cast their favorite content on Netflix, Youtube, access popular apps, and watch live TV and premium channels
Iron & Ironing Board
Mini Fridge
Ceiling Fan
Umbrella
Hair Dryer
Over-sized Bath Tub
Check in time is 4:00pm
Check out time is 11:00am

Credit cards used for a pre-payment must also be presented at the time of check-in for security verification purposes.

COVID-19 CLEAN & SAFE
PROCEDURES, POLICIES & STANDARDS DURING THE COVID-19 PANDEMIC ARE SUBJECT TO CHANGE.
UPON ARRIVAL AND DURING YOUR STAY, YOU CAN EXPECT SOME OR ALL OF THE FOLLOWING:
Proper Social Distancing Markers and Signage
PPE and Sanitizing Wipe Kits are available for guests on request
Hand Sanitizer Station at the Elevator
Rooms are kept vacant for 24-72 hours after check out
Elevator Buttons and other High Touch Surfaces are Disinfected Frequently
Employees are Educated and Trained in COVID-19 Health and Safety Protocols
Employees Wear Appropriate PPE in Accordance with State & Local Guidelines
A Thermometer is Used to Check Temperatures if there is a Concern
Employees Wash Their Hands Frequently and Thoroughly.
Staff Members Who are Sick are Told to Stay Home.
Guests May Request to Have Any Additional Room Cleaning Services
No Touch Bar Menus
Wearing a Covering Over One's Nose & Mouth is Required

We are Happy to Provide Any Other Services to Ensure Our Guest's Comfort and Safety.
Do Not Hesitate to Ask Us for Anything.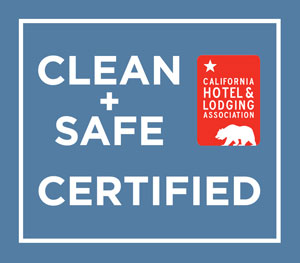 ACCESSIBILITY
Please Note that we are a Historic Boutique Hotel
The rooms are small but comfortable for 2 people. The bathrooms are compact.
Guest Rooms do not have air conditioning.
Disabled access for those using a wheelchair is limited due to the
structural size of halls, doors and floor space in all rooms and public areas.
Front Doors have an ADA button for automated opening
The Guest Elevator Door width is 30"
Elevator floor dimensions are 4'6" by 4'3" & may not provide turning radius for a wheelchair
All Guest Room Doorways are 28"
All Guest Room Bathroom Entry is 26"
The floor space around the beds are:
In a Twin Room- Bed to Wall 15" Bwtn Beds 24" Bed to Furniture 21" Foot of bed 26"
Queen Room- Bed to Wall 27" Bed to Furniture 35" Foot of bed 30"
Two Doubles- Bed to Wall 9" Bwtn Beds 30" Bed to Wall 24" Foot of bed 30"


Rooms with One Queen Bed or Two Twin Beds have a maximum occupancy of 2 persons.
Rooms with Two Double Beds have a maximum occupancy of 4 persons (extra charges will apply).

Rooms with Two Twin Beds are located on the backside of the hotel on floors 2-7
Disabled Access
The hotel was constructed in 1914. No significant modifications have been made to the structure since its construction in 1914.
The property has been inspected by a certified access specialist and all readily achievable barriers have been addressed. Due to structural limitations, the public area restrooms are not accessible to those in wheelchairs and only are accessible via a narrow stairway of 16 steps or the 30" wide elevators. There is a small step up to the public area restrooms. The guest rooms are not wheelchair accessible as noted in the measurements above, and due to the structural size of the room, they cannot be made ADA accessible. The bathrooms have the original, deep, clawfoot style shower/tub combination. Due to space and structural limitations, there are no roll-in showers and the toilets do not have grab bars around them. The bathroom vanity is not wheelchair accessible. The hotel has an accessible entrance and lowered check-in counter suitable for guests in a wheelchair. The bar and restaurant are wheelchair mobility accessible. The hotel does not have its own parking, fitness center or pool. We will always assist any guests and make reasonable accommodations to meet our guest's needs. If you have any questions regarding whether our hotel or a particular room is suitable for your specific needs, we are available to serve 24/7 if you contact the hotel at
1-(415) 362-2004 or send us an email at info@chancellorhotel.com.
Hearing Impaired/Limited Mobility Accessible Room Features:
(Best suited for hearing impaired guests or persons using a cane or walker)
Doorbells with flashing indicator
Strobe light Smoke Detectors
Raised Desks
Curtain Rod Extenders
Wrapped Pipes
Button Controls for Ceiling Fan & Light
Lowered Peephole
Lowered Closet Rod
Volume Controls and Indicator Lights on Room Phones
TTY Phones Available
Closed Caption Televisions
Grab Bar in Tub Area
Full-length mirrors on the back of the door